By Tim Miller: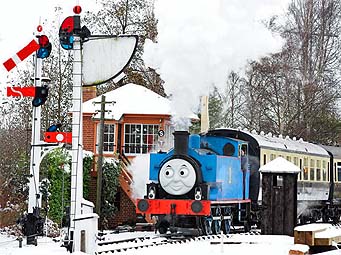 A tiring but very satisfying and enjoyable day!
Today we (Tim, Mark and Natalie) were elves outside Santa's grotto at the first of Didcot Railway Centre's Santa weekends of this year! There were two carriages parked in the transfer shed, back to back, for Santa's grottos.
Our job was to chat to the parents and children and find out how many boys, how many girls and ages. Most children were 2/3/4 years old. We then passed that info to another of Santa's helpers, (SPS supporter, Harrison!) within the grotto so he could help Santa to select the appropriate presents.
Then, when the previous people had come out we ushered in the next group. We began just after 10 and finished around 3.30. Lots and lots of people! We had a welcomed break in the middle.
The trains delivered 50 people to the transfer shed every 15 minutes. They were directed them to one coach or the other, depending on how many people were still in the carriage. We managed to empty most of the carriage – thankfully.
Fun and very valued by the Railway Centre. It could have been improved if there had been more of us, to enable more frequent breaks and to help usher people around.
Thank you very much to those who joined in and helped.
Swindon Panel Society is helping Didcot Railway Centre in the delivery of its Santa events throughout December, particularly on the Swindon Panel Days on 6th and 21st December. These events realise a significant proportion of the Railway Centre's annual income, so are to the benefit of all involved in the Centre, including SPS.
For more information about Didcot Railway Centre's Santa events please see their website. If you can spare a day to help out then please contact us and let us (or them) know!
(Photo: Didcot Railway Centre)