The Tuesday members of the Operations group held their first meeting this evening, covering all the signals and points from Circourt to west of Uffington. (The Monday and Tuesday groups fringe at Studley).
A couple of interesting points to come out of this evening's good work:
– The signal spacing between Challow and Uffington will be of the post-125mph era (as it will be on most of the panel).
– There is plenty of evidence that the trailing points at the entrances to both up and down goods loops were sprung, but no evidence that we can see that they were converted to motorised before the loops were removed in 1994/1996. Unless we find any evidence to the contrary, and if nothing else than for a bit of historical artistic licence, we will model them as sprung points (the facing ends being necessarily motorised). It is not unreasonable by any means to propose that they were sprung to the very end, as similar scenarios exist at Hemerdon to this day, and did at Severn Tunnel Junction until the area was resignalled a couple of years ago.
Thank you to those who are taking part in the operations groups on Mondays and Tuesdays. It's a slow task but is producing good results in that we are getting a well-thought-out and historically-merited layout on the preserved panel.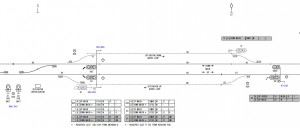 Click to enlarge.
More next week!