SPS Members' Weekend – Saturday 12 / Sunday 13 September 2020.
All SPS members are invited to Members' Weekend to see the latest progress and developments at Swindon Panel and Didcot Railway Centre. Whatever your level of signalling knowledge or experience, come and visit the panel you've all contributed to preserving and have a chat with some old friends and maybe make some new ones too!
The panel will be open continuously from 10am on Saturday 12 September to 4pm on Sunday 13 September. Once again we will be operating the panel overnight from Saturday into Sunday.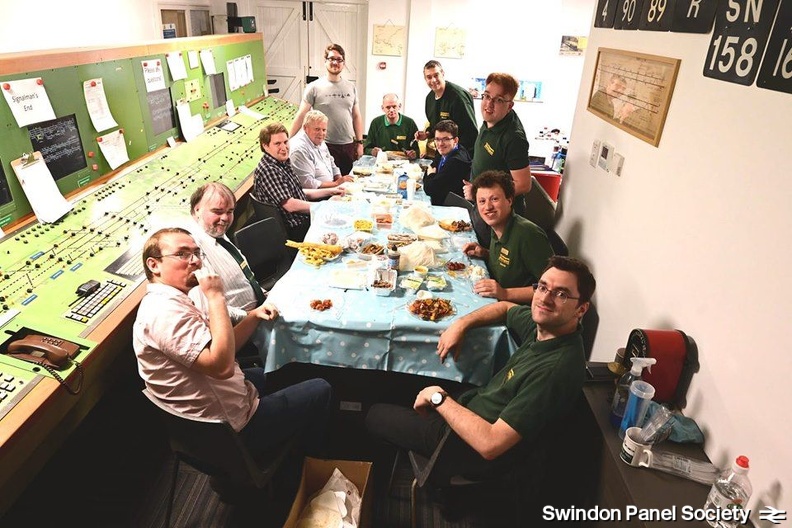 All members are welcome to book a slot. Even if you don't know how to work the panel, there will be plenty of members around to help you! Everyone is keen to show new people how things work.
In 2020, all working slots will be rostered. This will help ensure that everyone feels they've had a fair timeslot for their exclusive operating of the panel:
Signalmen (x2)
Simulator (x2)
Back desk
Announcer(?)
Sat 1000-1430, 1430-1900, 1930-2330, 2330-0700.
Sun 0700-1000.
There won't be a 'free' end of the panel, but as there are many more rostered positions there will be enough slots for everyone who wants to to have a go.
These positions will also be rostered overnight (as far as possible), to ensure the night time is just as interesting and varied as the day time.
In the best panel box traditions, there will be a takeway meal on Saturday evening!
The Railway Centre is open from 10.30am, so all members are welcome to 'drop in' at any time from 10.30am each day (please show your SPS membership card at the box office), but only those rostered will be working the panel/simulator positions.
If you are interested in taking on a rostered session on the panel during this period please contact us (stating your date/time constraints/requests). Sleeping accommodation can be arranged for this event at DRC if required.
If you're not yet a member, but are keen to take part, membership is only a click away!
See you there!