Swindon Panel is delighted to be hosting an Enthusiasts' Weekend on 3, 4, 5 April 2020. Please also see our Guided Talks on the same weekend.
On FRIDAY 3 and SUNDAY 5 APRIL 2020:
On these dates we will be offering "experience" sessions in Swindon Panel. These are similar to "footplate experience" sessions on heritage railways, but on a signal panel instead!
You'll have exclusive use of your panel position, to operate however you want, with as much or as little help as you want!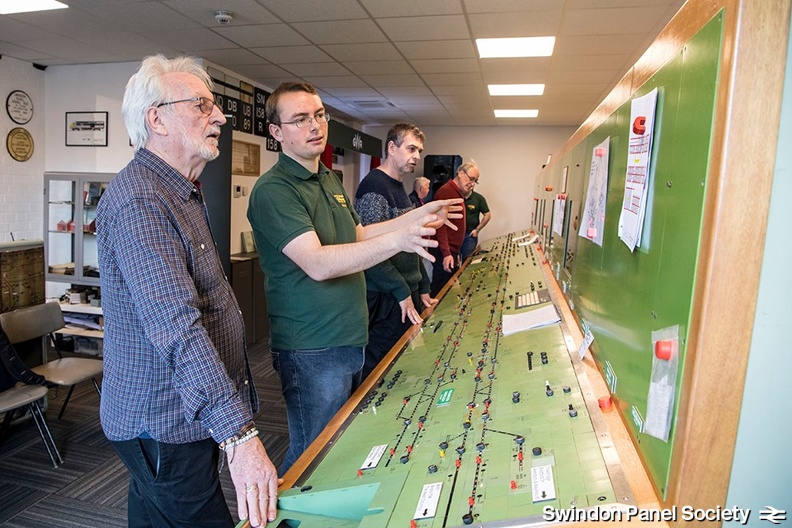 These sessions will be hosted by experienced industry professionals who will be able to answer your questions and give you valuable insight into the workings of the railway signalling system.
We believe this is the ONLY place where you can operate a big signal panel, realistically, but without the restrictions demanded if you were to operate a panel in 'real life' service.
Swindon panel interlockings function in exactly the same way as real life interlockings, and the train movements and behaviours are simulated realistically. The panel is regularly used for training by main line companies such as Network Rail, Siemens, Great Western Railway, and the Institution of Railway Signal Engineers.
There are two panel positions, and a two-hour slot on one of the positions costs £30. The sessions available are 1000-1200, 1200-1400, 1430-1630, 1630-1830.
Attendees are welcome to arrive one hour before their booked slots, if they wish to, for a familiarisation period on the back desk. This helps familiarisation with the geography and allows you to make the most of your session on the panel.
You are welcome to 'share' your side of the panel with a friend if you wish.
You may book more than one session if you wish, either concurrently or consecutively. If you were to book concurrent sessions, you could have the run of the whole panel for you and up to three friends!
The panel can deliver any level of difficulty, from the "really easy", ideal for novices and what we use on our public open days, to the "completely impossible!", for those with experience who really want a challenge! And everything in between. You decide.
Your experience fee includes:
– Admission to Swindon Panel for you and a friend (it is not necessary for you to purchase a Didcot Railway Centre entry ticket to access Swindon Panel if you are booked on this event)
– An exclusive two-hour period on one of the two panel positions of Swindon Panel, hosted by an experienced current or retired railway industry professional. You can operate the panel however you want to, with as much or as little help as you want.
– An optional one-hour pre-session familiarisation session on the back desk.
– 1 Year bronze membership of Swindon Panel
– Tea, coffee and biscuits
– Certificate of completion
How to book: Please contact us, giving your name and email address, the date and time you would like (or a range of times if you are flexible), and your preference for which end of the panel you would prefer. We will confirm availability for your choices and send payment instructions. Bookings will only be guaranteed on receipt of payment.
Under 16s must be accompanied by an adult.