SWINDON PANEL FUNDRAISING TIP NO 143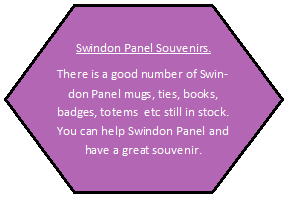 One way in which Swindon Panel is raising much needed funds is through the sale of Swindon Panel souvenirs. Are there any gaps in your collection of Swindon Panel memorabilia…?
Swindon Panel Mugs

Some blue ones still available and lots of new green ones.

£5 each. UK P&P free.

Swindon Panel enamel totem fridge magnet.

A must for any self-respecting fridge.

£3.50. UK P&P free.

Swindon Panel Move Book

The story of the preservation of the panel and its move to Didcot.

Limited print run

£10. UK P&P free.


We have a small number of these badges left which we released earlier in the year to celebrate Swindon Panel's 48th birthday and its transition into preservation.
Swindon Panel celebratory pin badge set.

£2 each or a complete set of 6 for £10. UK P&P free (only full sets available by post).
Swindon Panel needs you!