Thank you to everyone who came to the SPS AGM today and celebrated the first routes being set in preservation!
Apologies for the slightly shaky video – the room was very full so videoing wasn't easy – but we hope everyone will enjoy this film showing the significant milestone in the panel's history!

Video by Stephen Lear.
A small area of the panel has been made to work realistically using this demo simulator (Wootton Bassett West to Little Somerford).
After a short speech by Danny Scroggins, the privilege of setting the first ever route on Swindon Panel in preservation fell to two of SPS's youngest members – the daughter of a signalman and the son of a signal engineer!
The setting of the first route marks the start of the next stage of the preservation of the panel and its conversion into an educational exhibit – wiring up the 3,000 individual controls and indications in the panel, the lamps, switches, buttons, bells, etc, that are all being wired to a purpose-built simulator program to replicate the ten rooms of relay interlocking that the panel originally controlled. (While there isn't the space to preserve all the electro-mechanical interlocking and this is being replicated using microprocessors, a small demo sample of full-size interlocking will be on display and working so that visitors can see the technology up-close.)
There are still a small number of first-day-issue embossed signalling notices available after today's AGM (green, as they were green in the 1960s, not yellow!).
They are an excellent match for the format and language of the 1960s and are embossed with an official SPS Back Desk stamp that is carried only on the first-day-issue green copies – surely a collectors' item for the future!
If you would like to obtain a copy they are available from HOPS. (100% of the price is used in the furtherance of the aims of SPS.)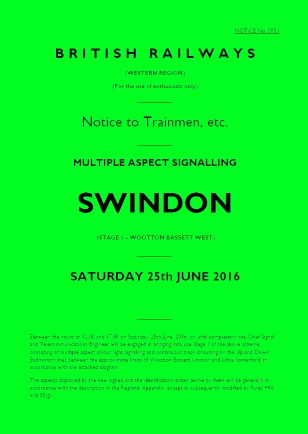 ("Those who have not received a copy should speak to their supervisor immediately!")