…Swindon Panel!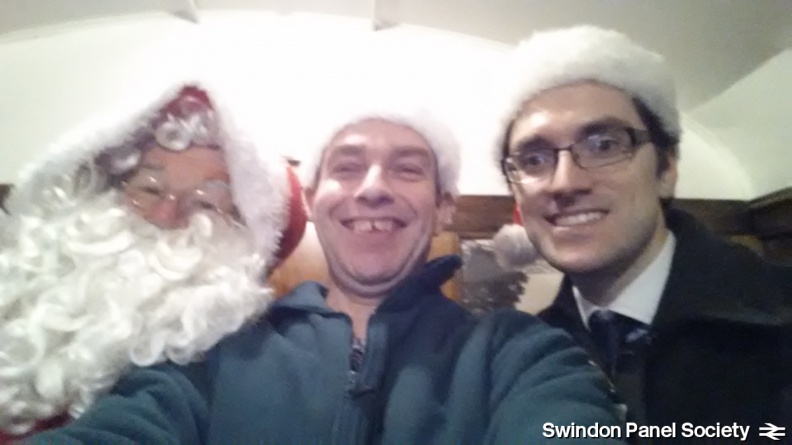 SPS are helping Father Christmas and all the other elves at Didcot Railway Centre again this weekend, with Brian and Danny on duty on Saturday and Tim, Mark and Natalie today (Sunday).
The DRC Santa operation is very well organised indeed, and as such sees A LOT of custom. The families arrive at the Railway Centre and can look round in the normal way, before joining Thomas (+ autocoach) at Didcot Halt, on the "Branch" line. The train takes them to the very north end of the site, where Santa is waiting in a large compartment in a carriage in the transhipment shed, surrounded by mountains of presents all neatly sorted out into age- and gender-specific groups.
When the families arrive at the transhipment shed they board Santa's coach and are filtered into meet Santa in family groups. The elves (ie, us!) chat to the children or parents immediately before they meet Santa to find out the names and ages of the children, and then pass this information to another elf in the grotto compartment to assist Santa in selecting the appropriate present. (It probably sounds more complicated than it is!)
It is certainly a very enjoyable day indeed, with a wide variety of families and children, all very excited about the prospect of meeting Santa, having just met Thomas, and layered onto the excitement of a family day trip out to the Railway Centre as well! The children we had yesterday ranged from 7-weeks old to 14 years old, and in a lot of cases the parents and grandparents are just as excited as the children themselves!
It goes without saying that it is also an extremely commercially important set of events for the Railway Centre, and therefore, by extension, extremely important to SPS too. Although the work isn't linked directly to the building or the panel, it is paying for it!
The days are relatively short, about 9am – 3.30pm and no special skills are required, so if you can help the furtherance of the preservation of Swindon Panel by coming to Didcot and having an enjoyable day chatting to happy people, let us know!