We are delighted to confirm a Society visit to Swindon Panel will be held on Saturday 9th May! Thank you very much to Network Rail for agreeing to this latest visit to the panel in its working condition for the Society.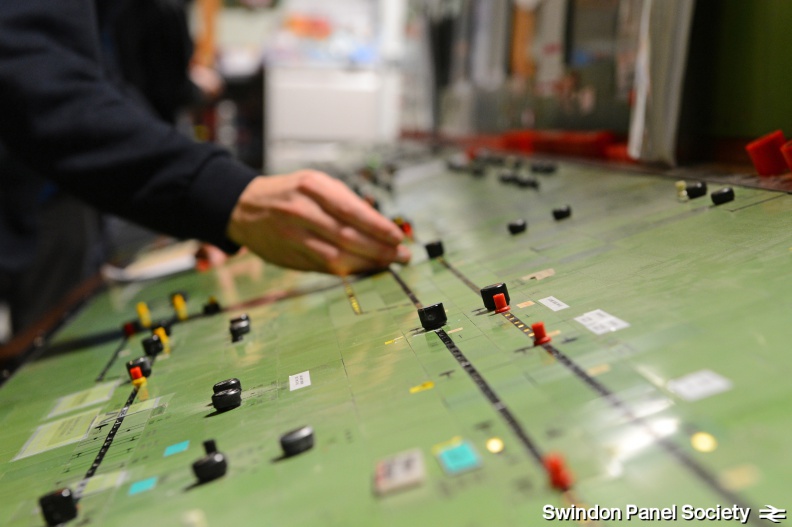 Photo by Jack Boskett.
We will hold a morning (10am) and an afternoon (2pm) visit, following the same format as previously, starting with a meeting in the Network Rail offices with an update on the progress of the Society and our plans for the next few months, including where you can help! We will have our demo panel and other toys, diagrams and plenty of opportunity for discussion and questions. We will then walk to the panel for the visit, which will include a guided tour of the operating room and panel controls by Danny Scroggins and a conducted talk of the relay room by E10k interlocking expert Tony Cotterell.
Important: engineering work will close the railway between Didcot and Swindon on the day of the Panel visit. Please click here for further details.
This will be a fantastic opportunity for you to visit, in action, the panel we are all working so hard to preserve, so that you can say "I was there when it was still in operation!" We normally have a good day on our visits, and this one promises to be just as good!
Members who have not attended visit to Swindon Panel before will initially have first priority to attend, followed by members who have attended a visit to Swindon Panel before. In order for us to manage numbers it is necessary to book your place in advance on the visit via our online sign-up form.
We expect a high demand for places on this visit so it is unlikely we will be able to open it to non-members. Non-members, to get in the game, join up here!
Registration is open now for all those wishing to attend. If you have been on a visit to the panel before you will be on a reserve list until 31st March. If there are sufficient places left after 1st April we will confirm your place and let you know. If there aren't then we will let you know that is the case. After 1st April places will be first come-first-served regardless of whether you've attended before.
The usual conditions for signal box visits apply:
- The meeting will start in the Network Rail offices, Holbrook Way, Swindon. SN1 1BD. Please do not go to the panel yourself.
- The panel visit is subject to there being no operational issues or problems going on and may be need be curtailed, postponed or cancelled at any point as operational circumstances require.
- Swindon Panel is accessible from the street so no HVs required.
- If coming by train, Western House is about a 5 minute walk from Swindon station (Directions). If coming by car there is a public car park opposite the building, or various car parks at Swindon station (all pay + display).
- Access to Western House has step-free access, but there are stairs from the ground to the operating room of the panel and unfortunately there is no lift.
- Anyone under 18 must be accompanied by an adult responsible.
- Mobile phones to silent or off.
- Swindon Panel is still a real life operational signal box and we will be the guests in someone else's workplace, so we need to treat the circumstances with respect and to maintain our good relationship that we make sure we don't distract or obstruct the signallers in their work. no touching of the panel or interfering with the signallers unless invited!
- Photography of the signalling equipment is allowed, again bear in mind the signallers who will probably not wish to be in the photos but will almost certainly be happy to step back at an appropriate moment to allow you to take a photograph.