LNWR Block Instrument
A Swindon Panel signalman (and SPS member) wishes to sell this LNWR block instrument, a proportion of the proceeds of which will be donated to the Society.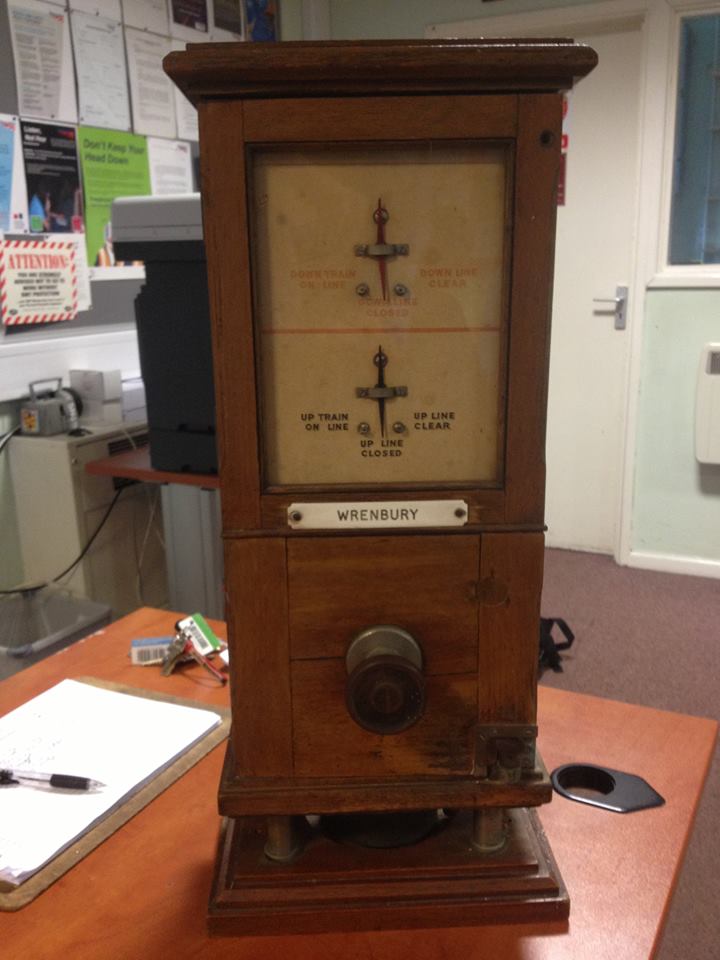 The ex-LNWR instrument is in very good condition, all the needles swing freely and sit naturally in the middle. All the internal mechanics are in place and in good condition.
The instrument accepts trains on the up from Wrenbury, so is possibly from Whitchurch Signal Box, or Chester Junction until 1969, on the Shrewsbury to Crewe Line. Whitchurch was recently closed under the Shrewbury-Crewe modular resignalling scheme and the line is now controlled from the South Wales Control Centre in Cardiff. At the end of its life the signal box was pretty permanently switched out – "only open in emergencies or by special arrangement" – (it and Crewe Bank being the only two boxes without a level crossing for security of survival).
If this instrument was from Whitchurch, this was an early instrument in the signal box. All the boxes on that line had their LNWR instruments replaced with BR 'penguin' block instruments while under BR ownership. If it came from Chester Junction is may well have been the last instrument in the box.
A photo of the Whitchurch diagram in 1989:
https://www.flickr.com/photos/ingythewingy/7963060042/
And some interior photos of the box in its later years:
https://www.flickr.com/photos/class92/sets/72157629604565632
And some external photos taken in 2010:
http://photos.signallingnotices.org.uk/photo_index.php?pc=311
The photos attached show the instrument at various angles, the internal mechanism and that the needles do freely move from side to side.
Offers and discussions are welcome by PRIVATE MESSAGE or EMAIL please. This is also being advertised elsewhere, so may be withdrawn at any time!
Telephones
These telephones have been donated to SPS so are being sold wholly in aid of the Society:
Bids welcome via eBay or email.