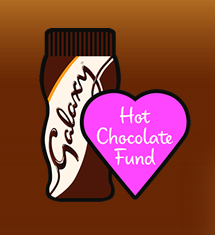 SPS is taking part in the Galaxy Hot Chocolate Fund this week!
Five small community projects such as ours are awarded gifts of £300 from the Fund each week, and this is our week!
You can vote for SPS any time this week by following the link below. If we finish the week with the highest numbers of votes, Galaxy Chocolate will donate £300!
This donation will be used to further the fitting-out of the building, which still requires a ceiling, flooring, doors and sink!
Please vote, and encourage your friends to vote, for SPS!