The Building Inspector approved the ground works for the new building last Thursday so the placing of type 1 began on Tuesday this week which is what we shall continue with on Sunday. We also hope that we will start to prepare the shuttering for the concrete.
Half of the bricks are now on site. The second half, and the steel for the foundation, are planned for delivery to the GWS (by rail!) on Friday.
Swindon Panel Sunday is this weekend, so why not come down and see the progress for yourself? Or better still, join in and lend a hand, it's jolly good fun!
Upcoming Swindon Panel Days are:
This weekend – Sunday 12 October
Saturday 25 October
Saturday 8 & Sunday 23 November
Saturday 6 & Sunday 21 December
(Corrected dates)
More details of Swindon Panel days is available here.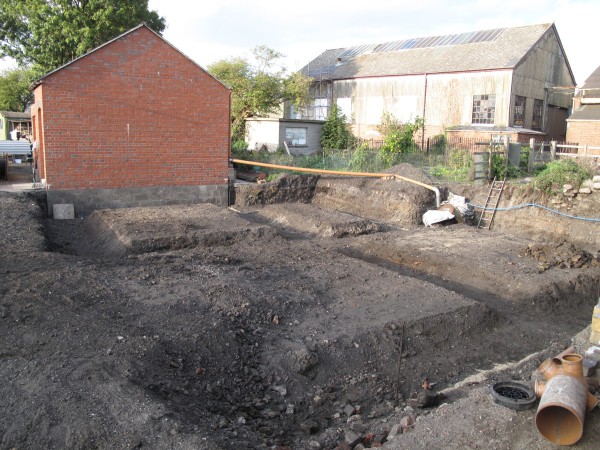 The nearly-finished digging-out of the foundations. [Richard Antliff]
On each of the four weekends leading up to Christmas Didcot Railway Centre runs Santa events at which children can visit Father Christmas. These events generate a substantial income for the GWS and help sustain them through the rest of the year. This is therefore a great fun opportunity for us to help support the Railway Centre at a critical time. Partners of members are also very welcome to help out.
The Santa events run on every weekend day from 29 November to 21 December, and you are very welcome to join in and help on any of them that you wish!
Nov: 29,30 Dec: 6, 7, 13,14, 20, 21
What's involved?
There are many things you can do to help.
- be on hand to guide visitors into and through the main line station and then into the Transfer Shed (aka Santa's Grotto!)
- help manage passengers joining the Thomas train so as to avoid queuing problems
- act as Father Christmas's helpers within the Grotto
- put up decorations before the event
- generally make visitors feel looked-after
I'm interested! What do I do next?
Please contact us with your preferred dates so that we can advise the Railway Centre.