SPS held visits to several signal boxes in the formative years of the Society, but we did not hold any in 2016 while we were occupied with heavy work on Swindon Panel. We are delighted to resurrect our interest in visiting signal boxes with this SPS visit to Romsey Signal Box on 15 January 2017.

From a signalling preservation point of view, Romsey Signal Box is preserved on a similar ethos to Swindon Panel in that all the signal box equipment works and can be operated by visitors. The managing group, the Friends of Romsey Signal Box, have done a superb job in rescuing the signal box and repositioning it on a site a very short distance from its original location, in the then-grounds of an infants' school. The signal box is opened once or twice a month to the public.
The signal box contains a 23 lever Stevens frame with all mechanical locking intact and some electrical locking. The block shelf is complete and the instruments and repeaters all work. It is great fun to 'play' with!
The Friends group also own an excellent working model of Cowley Bridge Junction Signal Box.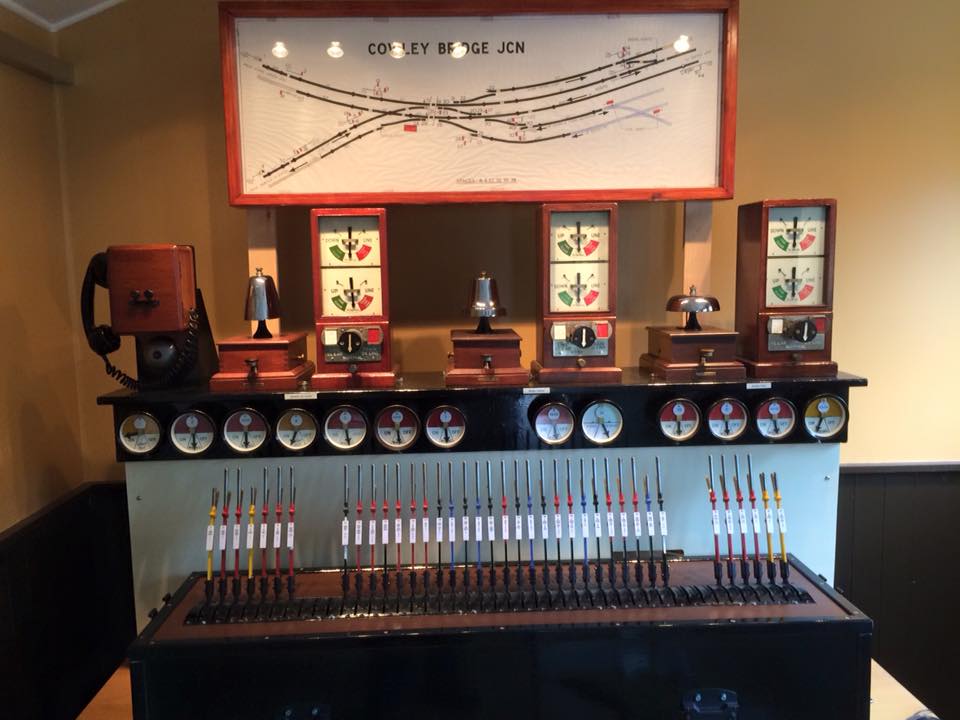 In addition to the signalling technology preservation aspect of the Romsey Signal Box Project, the signal box and its site have become a significant social attraction in their own right. The presentation of the signalling exhibits all around the site (and there are lots of them) in a layman-friendly way has seen the site become very popular with visitors of all ages. The signal box grounds are superbly-kept and full of other signalling and local railway related exhibits. There is also a small on-site refreshment room, and everything is run by volunteers.
Objectives
Our visit to Romsey will serve two purposes.
The first will be to visit as 'visitors', to see all the exhibits and enjoy them ourselves in the good company of our friends in SPS, and our friends in the similarly-minded Romsey group.
The second purpose is for us to learn some of the skills, methods and devices that the Friends of Romsey Signal Box have tried and tested in making their signal box so accessible to and interpretable by visitors, which hopefully we can learn from in readiness for when our signal box opens in the not-too-distant future.
Plan
We will be at Romsey Signal Box from 11am onwards.
There will be Friends of Romsey Signal Box volunteers on site to meet us and show us round, including some very long-serving volunteers who were involved in the original acquisition of the signal box.
We will be able to enjoy a private visit to see all of the artefacts around the site, most related to signalling, have a go at working the frame in Romsey, and also the back-end 'simulator' panel that pretends to be all the adjacent boxes, etc. We will also be able to visit the excellent working Cowley Bridge Jn exhibit.
Light refreshments (tea, coffee, cakes, biscuits, etc) will be available on-site. Attendees should bring packed lunches for anything more substantial.
We will also be able to tap into the useful knowledge of the 'Dos and Don'ts' of how to get the message across to the public, which will be interesting and vital to SPS in the future.
We will finish at approximately 4pm.
Fee
There is a £5 for members to attend this event, and a £10 fee for non-members (which includes a Bronze membership).
Wives, husbands, children, guests, etc are all very welcome to join us.
Join
Please let us know if you wish to book your place on this visit by contacting any Society official.