THIS EVENT HAS NOW TAKEN PLACE.
Jump to Starting Point | Signalling Tour | Signal Box Visits | Lunch | Finish | Tickets | Evening Entertainment | Accomodation | How to Book |
What could be more enjoyable than travelling in our own exclusive Bubble Car train (Class 122, W55000) through the beautiful South Devon countryside, enjoying a guided 'signalling tour' of the length of the South Devon Railway, followed by the opportunity to visit all the SDR signal boxes: Totnes Littlehempston, Bishops Bridge, Staverton, Buckfastleigh South and Buckfastleigh North for those that wish to?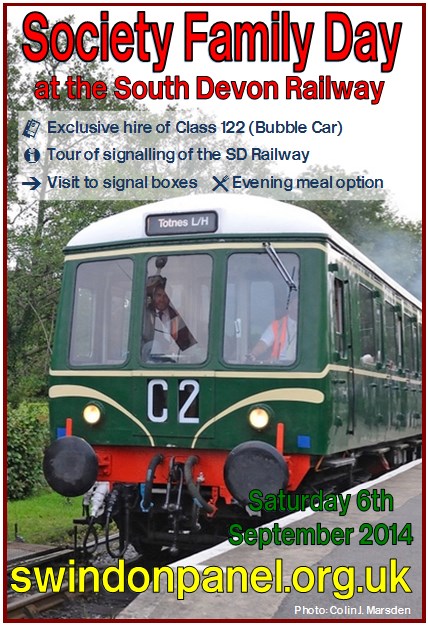 Well on Saturday 6th September 2014, you can do just that!
*Details updated 13 July*
It is possible to start the day at either end of the SDR. You can drive to Buckfastleigh and park there, our train will leave there at 10am and take you to Totnes where the event proper starts. Or you can take the (BR) train to Totnes (first down arrival 10.12), where there are signs to the SDR station (approximately 500 yards). Our activities will start at the SDR Totnes station, with the train departing at 10.45. There is no car parking at Totnes SDR station.
Leaving Totnes Littlehempston at 10.45 we will all be on the DMU for a guided tour of the signalling of the line, all the way to Buckfastleigh.
On arrival back at Buckfasteigh we will separate out into groups to visit all the five signal boxes of the railway. Everyone will be allocated into a group and the DMU will zip around the line being in the right place at the right time to take you to your next destination. The complete timetable will be available so if you want to make up your own itinerary if there are other things you wish to see and do then that is absolutely fine. Your seat is yours throughout.
You could also combine your trip to Devon with a visit to the Rare Breeds Farm at Totnes.
The DMU will be for our exclusive use throughout the day and we intend to have a babysitter on it throughout so that you can leave coats and bags on it if you like.
At each station it will be necessary to split down into smaller groups to visit the signal boxes, so leaving plenty of time for a good look around the station, signalling, artefacts, shop, cafe, lunch, etc.
For lunch options there is the railway cafe at Buckfastleigh, the Rare Breeds Farm cafe at Totnes, or of course you can bring a packed lunch. (You can use the Rare Breeds Farm cafe even if you're not visiting the Rare Breeds Farm.) You can use the train timetable to work out where and how you would like to have lunch (please note that lunch is not included in the ticket price).
Finishing Point for the main day event
At the end of the main day event we will all finish back at Buckfastleigh (1730) or Totnes (1800) as we started. (There is one group that has an earlier potential finish time at Buckfastleigh (1600), if anyone specifically wants an earlier finish then please let us know).
Adult (SPS member): £15
Adult (non-member): £20 (includes a bronze membership)
Children (SPS member): £8
Children (non-member): £10
Family Ticket Price: (2+2): £49. (Must contain at least one member)
Ticket price includes all travel and signal box visits.
As promised, there is then an 'evening entertainment' option!
An extra round trip in the evening will be available with fish and chips on the train.
The DMU will depart Buckfastleigh shortly after 1730 and will stop off at Nappers halt (between Totnes and Staverton) for a short (10 minute) walk to The Sea Trout Inn for drinks and medals. (www.theseatroutinn.co.uk)
Note it is necessary to alight and board the DMU using a ladder at this halt.
After dropping off at Nappers the DMU will continue to Totnes to take anyone who doesn't wish to come to the Inn back to the station there (1815 arrival).
After a suitable time at the Inn we will walk back to the halt where the DMU will take us back to Totnes for 1945 in time for the last up train (2009) or to Buckfastleigh for approximately 2030.
The evening entertainment fish and chips option is a supplement of £9 (£6 for children) – this includes fish and chips, drink, and of course the evening train ride.
There are a lot of country B&Bs in the surrounding area should you wish to stay overnight, or there is the option of the Travelodge in Exeter.
The Travelodge has double rooms available for £45 on their website.
There doesn't seem to be much mileage in any sort of group booking discount, so please make your own arrangements if you wish to stay overnight.
Rail Tickets to get to Totnes
The option of getting group tickets from various places became too detailed and complicated to be of any value, so we won't be pursuing this centrally.
In order to confirm your place on this outing please send us your ticket money by one of the following methods:
* CARD payments can be made via HOPS. Please follow the link, add the type of ticket that you would like to your basket, and checkout in the normal way.
* CASH delivered in person to a Society official (Danny, Tom, Tim, Brian, James)
Please help us by enclosing in an envelope with details of the booking on it.
* CHEQUE made payable to 'Swindon Panel Society' sent to Brian Davis at 5 Tavy Close, Didcot, Oxon. OX11 7XR
Please include a covering note with details of the booking on it.
* ONLINE banking transfer. Account name: Swindon Panel Society. Account number: 2058 5616. Sort Code 60-11-28. Please make the 'reference' your name so that we know who the money has arrived from and email us with the details of the booking.
Remember to include £9 per person for the evening (or £6 for children) for the evening meal entertainment option if you wish to stay for that.
We will confirm receipt of all ticket money.
Event cancellation, etc: If the event is cancelled we will refund ticket prices, but can't make refunds for travel or hotel bookings that you have made. The Bubble car is subject to availability (mechanical defects etc) and the signal box visits are subject to there being no significant railway incidents going on at the time.
Questions?
If there are any problems or queries please let us know!