THE SPRING RAFFLE IS NOW CLOSED.
Thank you to everyone who took part. – Results

---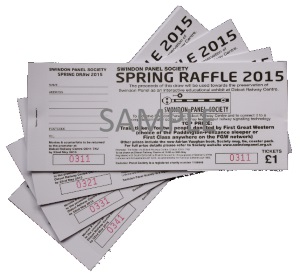 Our Spring Raffle is open now!
There are some fab prizes to be won, and all funds will be used in the move and restoration of Swindon Panel.
Top prize is a pair of First Great Western tickets, first class, or even on the Paddington to Penzance sleeper train!
Other prizes include :
2. A family entry ticket to Didcot Railway Centre
3. A family ticket on the Gloucestershire Warwickshire Railway
4. A copy of Adrian Vaughan's brand-new latest book 'Railways Through the Vale of the White Horse'
5, 6. Swindon Panel Society Ties
7, 8. Swindon Panel Society mugs
9. A selection of vinyl depot stickers
Thank you very much indeed to all our friends for their most generous donations of prizes:
Raffle tickets are available:
* from Society officials
* at the SPS stand at DRC on 18 April
* at the Gathering on 25 April
* at the Panel Visit on May 9th
* at the SPS stand at the DRC steam gala on 2, 3, 4 May
* at the SPS stand at the DRC diesel gala on 23, 24, 25 May
* you can also purchase online
(Raffle tickets purchased online will not be posted out (to maximize funds for Swindon Panel), but we will advise you of your raffle ticket numbers by email.)
The draw is on Monday 25 May at 1pm at Didcot Railway Centre. Winners will be notified shortly after.