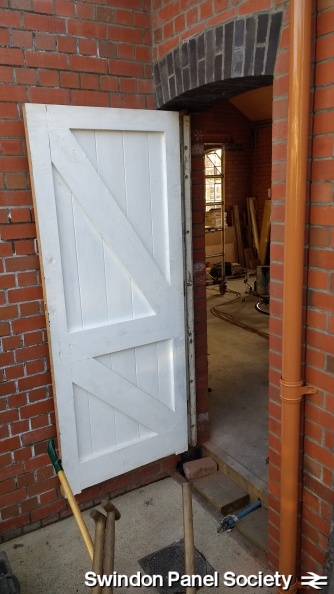 Thanks to some superb work by the GWS Civil Engineering (CE) Group, the building now has a complete set of windows in the three back windows of the building (one in the Swindon room and two in the Bristol room). These are original GWR windows from the former buildings at the front of Didcot station before the pickup area was built. The last remaining window, at the front of the building, is from Taunton Engine Shed.
Plastering has now taken place on two of the walls in the Swindon room, that's the wall at the Uffington end of the panel, and the wall that's face-to-face with the Uffington part of the panel. Tomorrow, and Thursday next week, the wall behind the panel will be plastered. The Uffington end wall has already received a first coat of paint.
The first of the final doors have been fitted to the building now, the small door at the side of the building now has a "new" wooden door (actually a recovered railway door). The doors for the signal building have been rescued from the p.w. buildings at Didcot and platform 9 at Reading.