The GWS's Civil Engineering group hold a grand dinner every year, and as SPS has been working so closely with the CE group for the last 18 months an invitation has kindly been extended to SPS members.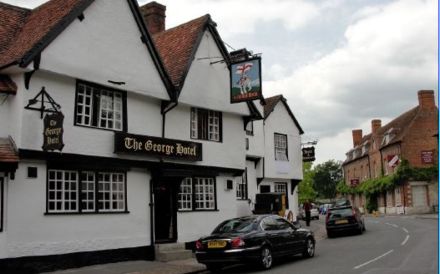 The dinner is at The George Inn, Dorchester-on-Thames (near Wallingford), on Saturday 28 November. We will meet at The George at 7pm for a 7.30 dinner. The CE group are arranging some road transport from Didcot Station at 6.30pm. The George normally has at least four good beers: recently seen or sampled 6X, London Pride, Butcombe, Brakspear amongst others.
The cost for a 2-course meal, inc coffee etc, is £20. The cost for a 3-course meal, inc coffee etc, is £25. (Does not include drinks)
We are privileged to be invited to the CE group's annual dinner – and are really pleased that SPS is cementing its links with the wider Railway Centre.
Please contact us via any of the usual methods if you would like to join in the dinner. There is a menu, which we will send you, from which selections need to be made by 22/11/15.
See you there!